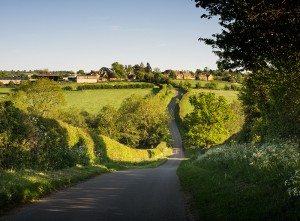 Welcome to Barton-on-the-Heath, a village and civil parish in the Stratford-on-Avon district of Warwickshire, England. According to the 2001 census the parish had a population of 85. The village is in the extreme south of Warwickshire, close to the borders with Gloucestershire and Oxfordshire. There is a church, dedicated to St Lawrence.
In 1870-72, John Marius Wilson's Imperial Gazetteer of England and Wales described Barton on the Heath like this:
BARTON-ON-THE-HEATH, a parish in the district of Chipping-Norton and county of Warwick; on the verge of the county, near the Four-shire-stone, 3½ miles E of Moreton r. station, and 6 S of Shipton-on-Stour. It has a post office under Moreton-in-the-Marsh. Acres, 1,540. Real property, £2,408. Pop., 184. Houses, 36. The property is divided among a few. The manor belonged, from the time of Henry III., to the Marshalls; and passed, in the time of Elizabeth, to the Overburys. The living is a rectory in the diocese of Worcester. Value, £364.* Patron, Trinity College, Oxford. The church is old and plain, but good. Dover, the lawyer, who instituted the Cotswold games, so famous in the times of James I. and II., was a resident.